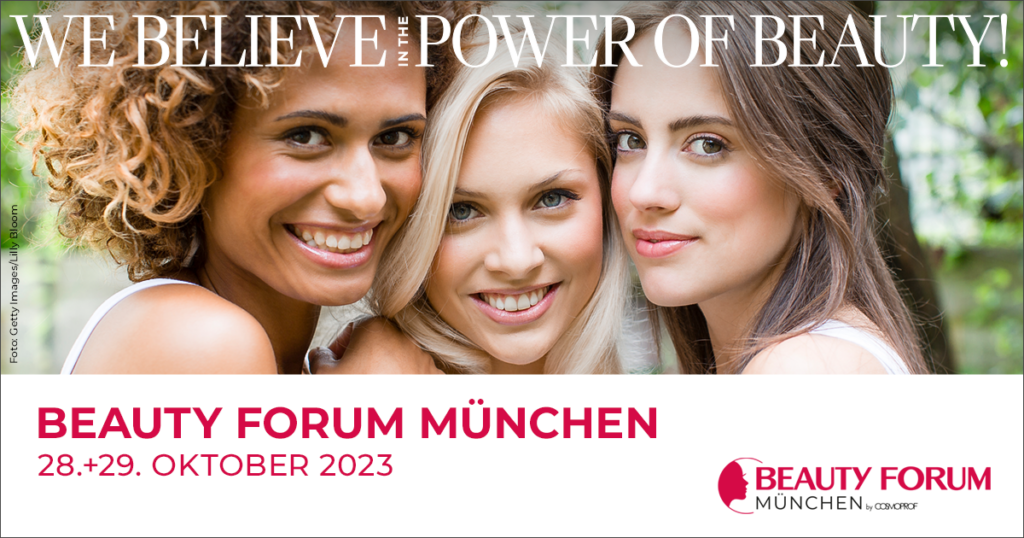 – WHERE BEAUTY MEETS INNOVATION, TRENDS AND PASSION
ETTLINGEN, October 5th, 2023 – BEAUTY FORUM MUNICH, Europe's leading fall beauty trade show, returns this year with an impressive lineup of exhibitors, innovations and educational opportunities. Taking place at Messe München on October 28-29, 2023, the event will once again bring together thousands of industry experts, professionals and beauty enthusiasts from around the world.

Over the past 36 years, BEAUTY FORUM MUNICH has established itself as THE beauty event presenting the latest trends, products and techniques in the cosmetics industry. For the 37th edition, many highlights and innovations await visitors.

Managing Director Roberto Valente: "BEAUTY FORUM MUNICH 2023 will be an unforgettable event for the cosmetics industry. Also this year the show takes place under the motto 'We believe in the power of beauty' and we are proud to offer a platform for innovation, education and networking. This year, for the first time, we will also present the winners of the BEAUTY FORUM Stars Award at the show, as the popular award will be presented the night before at an exclusive gala event. Every year, the BEAUTY FORUM Stars Award shows how progressive the industry is, as it focuses on the most innovative products and the best companies."

Michaela Buchheister, Director Events: "We are really looking forward to this year's BEAUTY FORUM MUNICH. We have been working hard to put together an exciting program that will delight trade lights and enthusiasts alike. We want to offer visitors a special kind of trade show experience. BEAUTY FORUM MUNICH is the place where the beauty industry comes together and develops."

In addition to the extensive trade exhibition with over 557 well-known exhibiting companies and brands, the fair presents the latest trends, products and applications from the well-known areas of cosmetics, medical beauty, nail, foot, as well as the new product areas of home & lifestyle and health/nutrition. Trade visitors can also look forward to an extensive supporting program with scientific congresses, workshops, stage shows and championships.
Highlights of the 37th BEAUTY FORUM MUNICH
Official opening of the trade fair on October 28, 2023 at 10 a.m.
On October 28 at 10 a.m., the official opening of BEAUTY FORUM MUNICH 2023 will take place on the Beauty Stage. The trade fair will be kicked off by Roberto Valente, Managing Director of Health and Beauty Germany GmbH, Michaela Buchheister, Director Events as well as Gabriele Neff, Munich City Councilor, Dr. Helmut Drees, 1st Chairman VCP and Ruth Neri, Managing Director of DKMS LIFE.

Trend keynote by BEAUTYSTREAMS
Our cooperation partner BEAUTYSTREAMS, the central platform for the global beauty industry, will present the trend "Blissful Beauty: The Growing Demand for Uplifting Claims" in an exciting keynote and explain how it will influence product innovation in the areas of skin care, perfume, hair care and color cosmetics.

Cooperation BEAUTY FORUM x DKMS LIFE patient program look good feel better
This year we are again pleased to support the non-profit organization DKMS LIFE with its patient program look good feel better. The program offers free cosmetic seminars for cancer patients undergoing therapy and helps give those affected a new sense of well-being and courage to face life.
"We are very happy about the renewed, great support of BEAUTY FORUM for our patient program. After three years of pandemic seminars that could only be held online, we are finally back on-site at medical facilities. As a non-profit organization, we rely on every donation to give new hope and joy of life to many more cancer patients undergoing therapy," Ruth Neri, Managing Director of DKMS LIFE.
Medical Beauty Symposium & 11th Anti-Aging Congress on Friday before the fair powered by BEAUTY FORUM & REVIDERM
Dermocosmetics meets Aesthetic Medicine – for the first time this year there will be a cooperation in the field of medical beauty. The well-known anti-aging congress held as part of BEAUTY FORUM MUNICH will be integrated into Reviderm's medical beauty symposium.
Date: Friday, October 27, 2023 I Location: NH Munich East Conference Center
19th certified podology congress
In cooperation with the German Association of Podiatry L.V. Bavaria, the certified 19th Podiatry Congress will be held on the Sunday of the trade fair with a focus on "Diabetic Foot Syndrome".
Beauty Talks on the Beauty Stage with style expert Martina Reuter and presenter and author Anastasia Zampounidis
• Saturday: Styling show with Martina Reuter "Styling tips for everyone".
• Sunday: Beauty Talk "Forever Young with Anastasia Zampounidis
Revolutionary make-up and hair shows on the beauty stage
• Saturday: Hair show "Radical Classic" with Creative Director of the Bavarian Hairdressers' Guild Alexander Liebelt
• Sunday: Make-up show "Glamorous Red Carpet Make-up" with make-up artist Lukas Kuciel & Hair show "The revolutionary haircut 'Calligraphy Cut'" with master hairdressers Michael Gieß and Milena Gudalovic
Start-up Zone
The Start-up Zone for young companies in the beauty industry will be part of the trade show for the second time in 2023. BEAUTY FORUM MUNICH has already launched this special and important exhibition area in 2022. This year, more than 20 newcomers will present themselves with new products and fresh ideas.
As a trade fair with an international focus, BEAUTY FORUM MUNICH offers an exhibition range that covers all areas of professional service cosmetics under the motto "We believe in the power of beauty". BEAUTY FORUM MUNICH is an event organized by Health and Beauty Germany GmbH, based in Ettlingen.
For more information and to apply for accreditation free of charge, please visit the official website of the trade fair at www.beauty-fairs.de.
Current information for press representatives can also be found here: Press Service – BEAUTY FORUM MUNICH (beauty-fairs.de)