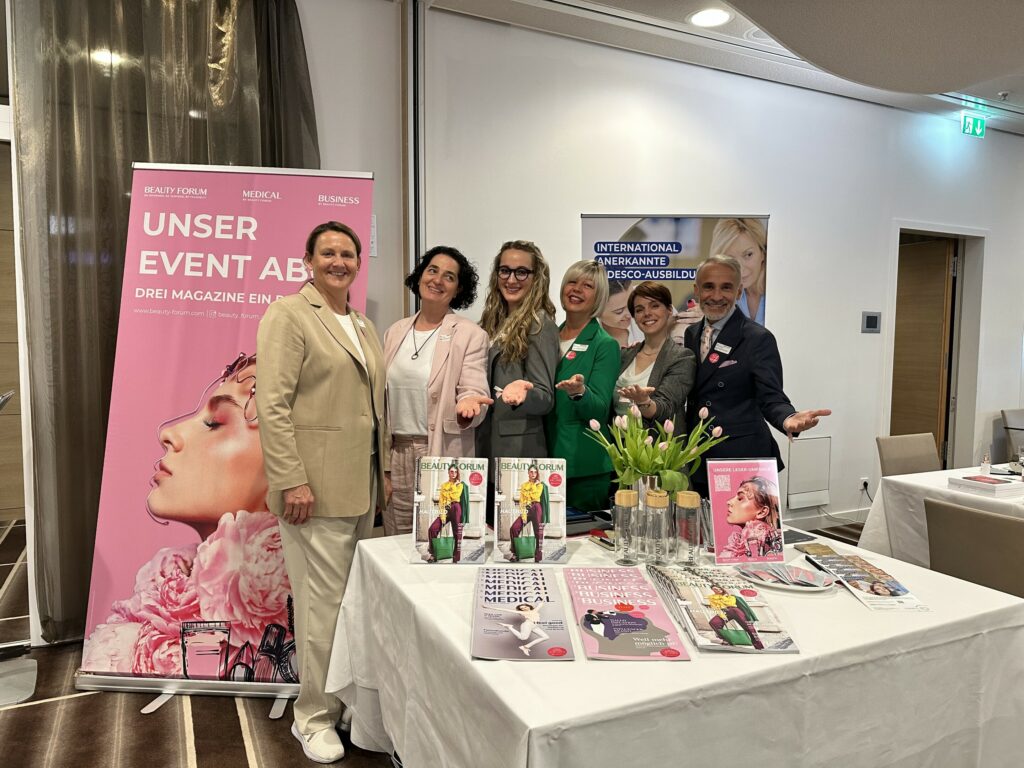 Second BEAUTY BUSINESS DAY HAMBURG delights beauty industry professionals with innovative products and services at the Westin Hotel in the Elbphilharmonie Concert Hall.
ETTLINGEN, MAY 02, 2023 – The second edition of BEAUTY BUSINSS DAY Hamburg took place on April 29, 2023, at the well-known Westin Hotel in the Elbphilharmonie. The one-day event in the exclusive location attracted 23 renowned exhibitors from the professional cosmetics industry to the port metropolis. Over 200 trade visitors had the opportunity to learn about the latest trends and developments in the industry.
Innovations and trends: live presentations and exciting specialist lectures
The trade exhibition offered visitors the opportunity to experience products and services in the fields of cosmetics, wellness & spa, nail as well as podiatry & foot care and nutritional supplements up close and personal on site. In addition to the fully booked trade exhibition, there were a variety of lectures and presentations on various topics such as skin care, hair removal, nail design and business tips. Visitors also had time for individual discussions and comprehensive consultations with the exhibitors represented.
Michaela Buchheister, Director Events, Health and Beauty Germany GmbH: "We are thrilled that the second BEAUTY BUSINESS DAY Hamburg was so successful and that we were able to welcome so many high-quality exhibitors and trade visitors. The event has once again shown how important exchange and networking are in the beauty industry, especially on a regional level."
In focus: training and continuing education in the cosmetics industry
In addition to the latest trends and products, BEAUTY BUSINESS DAY visitors also received valuable information on the subject of training and continuing education. The association CIDESCO Germany was also represented and presented its internationally recognized training programs. Health and Beauty Germany GmbH represents the world's largest international association for beauty therapy in Germany since the beginning of 2023. The topic of education and training is an important part of the beauty industry and CIDESCO Germany makes a valuable contribution to the training and qualification of professionals.
Roberto Valente, Managing Director of Health and Beauty Germany GmbH explains why the exclusive one-day event is so popular in the industry: "We created the concept of BEAUTY BUSINESS DAYS in response to the market – personal and individual discussions are not only extremely important and valuable, having more time for individual concerns also meets the current needs of our customers – both exhibitors and visitors. We are very proud of the BEAUTY BUSINESS DAY community that we have already built up in such a short time."
The following exhibitors presented themselves to the interested trade public: listing of the exhibitors.
Exhibitor comments:
Frank Schäberle, Managing Director VETO NAILS GmbH: "Very good, very beautifully designed. A wonderful, great and professional setting in this incredibly beautiful ambience in the Elbphilharmonie and above all with very great and very professional customers who have visited us here today. I think again, a milestone and a whole new kind of professional event, because it's also such an incredibly great exchange between colleagues."
Antje Meyer, Managing Director and Beauty Business Expert: "Great! I was already there last year, but exclusively as a "speaker" and was so enthusiastic that I thought, this year I would like to have my own booth here. Everyone has enough time to talk and it's such a great atmosphere, also with the booth neighbors. You also support each other a bit and in between you always have the opportunity to network. The atmosphere is great. So, definitely again!"
Sandra Neelmeyer, Consultant LUCIA CARE: "The BEAUT BUSINESS DAY in Hamburg was very exciting and interesting for us. LUCIA CARE is a natural cosmetics brand from Denmark that is not yet known on the German market, so we did not know what to expect. We got to know the customers and their needs through the extensive and intensive discussions. The day was very diverse, there were very different customers on site, not only cosmetologists or beauticians, but also hotels looking for new products. We found that very exciting as well."
Dipl.-Ing. Jessica Bessen, Development and Quality Assurance JOHN VOSS COSMETICS GmbH: "We are very positively surprised. A great event, a very nice location. Above all, the acoustics are insanely good. That is very outstanding compared to other trade fairs that you know. We were able to talk to our customers and potential customers in a very relaxed way, because the location is really perfect for that. We met a lot of new interesting customers and we are very much looking forward to being there again next year.
Gabriela Rüdiger, Sales and Training Manager METHOD BRIGITTE KETTNER: "We had a wonderful day today. The concept of the BEAUTY BUSINESS DAY is really great for us. Why? We are unique and the customers who visit us here are also unique. The nice thing is, you don't get lost in the crowd here – like at a big trade show – but here you can have really long conversations with customers. Everything is much more personalized. That means you can make a completely different impression here, you can express yourself in a completely different way here, precisely because you have time for the customer. That's why feedback from my side: trade shows really should be small and personal. Especially if you are an individual company like we are at METHODE BRIGITTE KETTNER, because we also need time to explain something in depth to the customer, which we really do. In this sense – my recommendation: BEAUTY BUSINESS DAYS and yes, what else can I say – thank you for letting us be part of it!
Ala Taha, Member of the Management Board, BEAUTY BUSINESS 24: "The BEAUTY BUSINESS DAY was super successful. We got in touch with a lot of visitors, but also co-exhibitors. It was a super interesting day, where we could learn about the latest beauty trends, but had the opportunity to exchange ideas. For us it was a complete success!
Jasmin Zentara, Cosmetics and Wellness Specialist DALTON COSMETICS GmbH: "I am super happy. The BEAUTY BUSINESS DAY went really well for us at DALTON. Great atmosphere, great people, lots of good conversations. I can only recommend the beauty event." CIDESCO Germany, Kyriaki Stringari, Project Manager: "It was a great opportunity to participate in BEAUTY BUSINSS DAY Hamburg. This was the first opportunity for CIDESCO Germany to reach beauticians from the greater Hamburg area to exchange ideas on how we can provide the best and professional care to clients and to present our CIDESCO continuing education opportunities. We would like to thank you very much for the interesting conversations and valuable inputs."