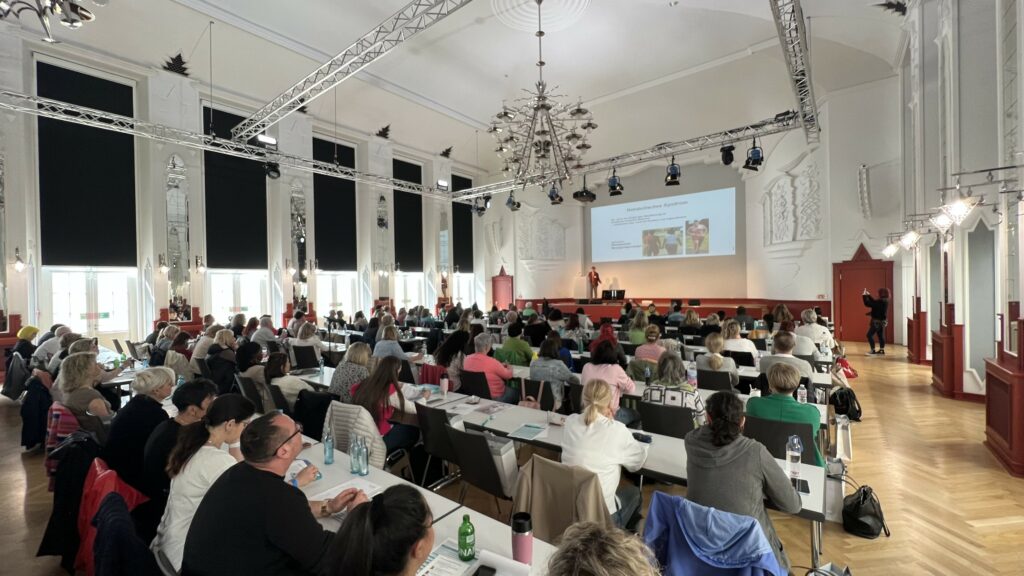 ETTLINGEN, 24 APRIL 2023 – Last Sunday, the 1st Podology Congress of Health and Beauty Germany GmbH with accompanying trade exhibition on the topic of podiatry/foot care took place in the Congress Hall at the Zoo in Leipzig. More than 30 well-known companies and brands presented their latest products and services on site. 219 participants and trade visitors informed themselves about the latest developments and trends in the industry.
"With the German Association for Podiatry (ZFD), LV Berlin Brandenburg e.V. as a cooperation partner, we had a strong partner at our side for the congress premiere," said Roberto Valente, Managing Director of Health and Beauty Germany GmbH. "We sincerely thank them for their support and successful cooperation." The association advocates for the interests and concerns of podiatrists and promotes the development of podiatry as a health profession. By certifying the congress, the association contributed to the quality assurance of continuing education programs and thus supported the continuing education of professionals.
"It is wonderful that we have taken up the opportunity again to re-implement a podology congress here in Leipzig, in this case detached from the beauty fair, exclusively for podiatrists, and that we have thus been able to put together a high-quality professional program. We would be very pleased if we could continue this co-operation also in the next year , so Sindy Burow B.A., vice-president of the German federation for Podologie (ZFD) registered association.
The main topic of the live congress, the diabetic foot syndrome, was the focus of five exciting lectures by top-class expert speakers. The congress was certified by the German federation for Podologie (ZFD), LV Berlin Brandenburg registered association with 7 advanced training points.
Premium exhibitors at the trade exhibition included IONTO Health & Beauty GmbH/SÜDA, Hellmut Ruck GmbH and Eduard Gerlach GmbH/Gehwol. Attendees had the opportunity to learn in detail about the exhibitors' products and services and to expand their expertise on site.
"We are very pleased with the response to the 1st Podiatry Congress in Leipzig," Michaela Buchheister, Director Events at Health and Beauty Germany GmbH. "The participants benefited from the top-class specialist presentations and the opportunity to exchange ideas with experts and colleagues. We are already looking forward to the next congress next year."
Exhibitor comments 1st Podology Congress in Leipzig 2023:
Hellmut Ruck GmbH, Samuel Ruck, Division Manager Sales and Service: "We are very pleased to have been at the Podology Congress 2023. The target group was super, from the depth and the professional qualification perfect, they were prepared that exhibitors are also on site could bring forward their concerns. We had very good conversations and we are looking forward to be there again next year for sure!"
Süda, Ionto Health & Beauty GmbH, Sylke Nosske, training/specialist advice: "We are pleased to have been present at the specialist congress for podiatrists. The day was very interesting and very informative – in these beautiful premises.  We look forward to being there again next time!"
EDUARD GERLACH GmbH/ Gehwol, Andreas Schmidt, podiatrist and non-medical practitioner, field service: "We are pleased to have had interesting discussions here in the Podology Congress trade exhibition and also to have been able to attract new participants for the seminar area. We also liked the ambience with the beautiful bright rooms very much. Many customers came and looked at the news and we are pleased to have presented our products here."
Gustav Beahr, Susanne Sprung Area Management East Germany: "We accompanied the trade exhibition of the Podiatry Congress in Leipzig and met many new nice podiatrists. The trade exhibition was really well attended and we had many great conversations on site."
Neubourg skin care, Marion Hoven: "The podiatry congress had an attractive number of participants – what was really great was the mix of congress participants and trade visitors who only visited the industry exhibition. The break times were super timed, so that we had customer contact throughout the day and were able to make many new contacts. We are already looking forward to next time!"
Ocean Pharma, Ms. Röhr, Event Manager: "This is our first time at the trade exhibition in Leipzig and I have to say the event went very well, we had many visitors and nice conversations and were glad to have seen each other in person again."
For more information on the 1st Podiatry Congress in Leipzig, click here: https://www.beauty-fairs.de/podologie-kongress.html
 The next upcoming BEAUTY FORUM events in Germany and Austria 2023 will take place as follows:
BEAUTY BUSINESS DAY Hamburg – April 29, 2023.
BEAUTY BUSINESS DAY Leipzig – May 13, 2023
BEAUTY BUSINESS DAY Vienna – September 2, 2023
BEAUTY FORUM MUNICH – October 28/29, 2023
BEAUTY BUSINESS DAY Stuttgart – December 2, 2023
An overview of upcoming events in Switzerland: https://www.beauty-fairs.ch/